With all of the different options and variables of every single piece of custom art we produce, it can be a bit confusing to figure out what your project is going to cost to have us print for you. Let's get started.
1) Figure Out the Basics
To determine pricing for your custom heat transfers or DTF transfers, start thinking about the following questions:
What size is the artwork in inches?
How many do you need?
What type of garment is it going onto? (100% cotton, 50/50 blend, 100% Poly, etc.)
2) Are You Ordering a Single Image or a Gang Sheet?
Our One Color, Two Color, and Full Color Programs for Single Images are top-notch and unrivaled in pricing and quality, but not everyone fits into the single-image pricing.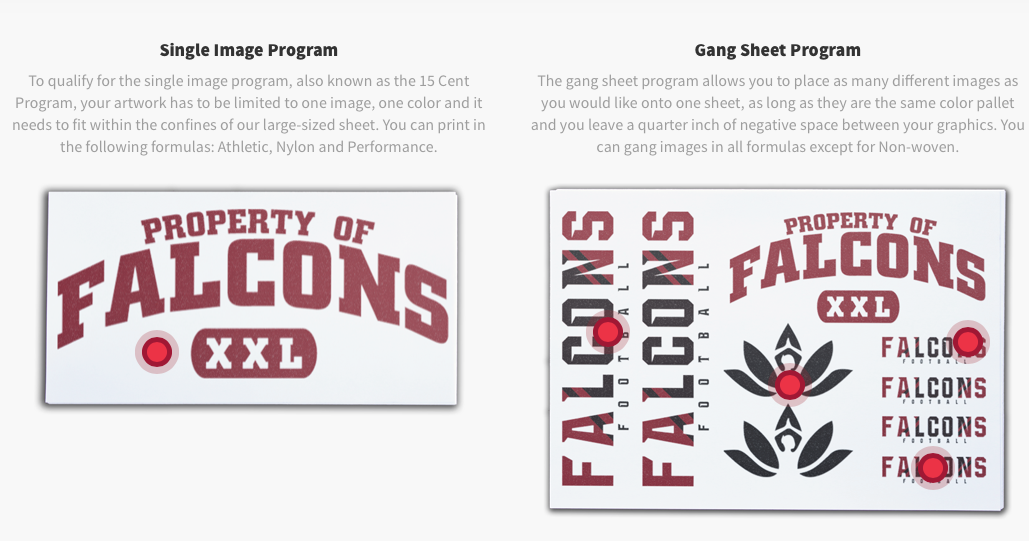 3) Spot Ink VS Process (CMYK)
Spot inks are available in 1, 2, and 3 color transfers. Spot ink is color that is already mixed to the color specified and then applied onto the transfer. Spot is best for larger areas of solid ink with a more basic design.
Process (Full-Color) is for any design with 4+ colors. It differs from spot ink in that the different color inks Cyan (C,) Magenta (M,) Yellow (Y,) and Black (K) are combined onto the transfer to create colors on the transfer paper. For instance, combining C and Y for a Green (blue and yellow make green, etc.) That means that you may have slight half toning (light variations) on larger areas with one solid color within the design. Process is best for photographic quality prints.
You CAN use process for 2 and 3 color designs, but you must be aware that you may have half-toning with larger areas of ink. Often customers who need gradients within the design or have photos (black and white & color) will benefit from Process (Full-Color)
4) Take the Above Information and Make an Informed Decision.
Once you know the above information, check out What's The Right Formula? to determine which formula will work best for your next project. You can check out our most recent PDF Catalog for the most detailed pricing and to learn more about each formula, or our sales team can definitely assist in a more detailed quote once you have the above information.